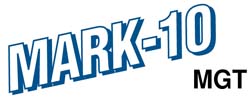 TENSION & COMPRESSION
CAPACITIES: 100 lbf-in/1150 kgf-mm
SELECTABLE: lbf-in / kgf-mm / N-cm
REMOTE HAND-HELD SENSOR
ACCURACY +/- 0.5%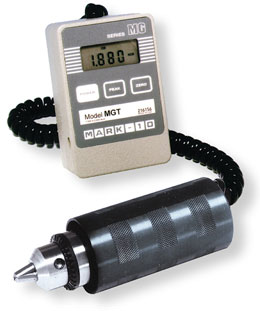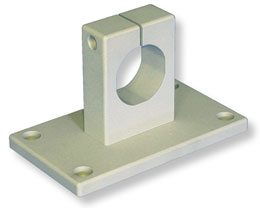 AC 1007 Bench Top Sensor Mount
The MGT Digital Torque Gauge provides basic torque measuring with a wide range of capacities at an economical price where added features are unnecessary.

MGT basic features include hand-held or fixed remote torque sensor use, selectable pound, ounce, kilogram or Newton units, push button zero, peak memory hold and auto-off for battery power conservation.

The AC power adapter provides continuous power with a non-rechargeable battery for back-up or for portable use.
CONSTRUCTION
Compact, lightweight and rugged aluminum housing.

Bi-directional hand-held or mounted remote torque sensor.

Remote torque sensor accommodates up to 1/2" [13 mm] diameter sample.

Display module and remote sensor connected with 5' [125 mm] coiled cable.

OPERATION
Peak torque sampling rate: 30/sec.

Peak hold retains maximum clockwise and counter-clockwise readings.

Selectable units: ozf-in, lbf-in, kgf-mm, or N-cm.

Simple push-button calibration procedure.

Continuous operation with 110 or 220 Vac adapter.

POWER REQUIREMENTS
Non-rechargeable battery provides 30 hours of operation.

"Lo Bat" display warns of low battery.

Auto-off conserves battery power.

ACCESSORIES
Included: non-rechargeable alkaline battery, AC adapter, case, manual and NIST Calibration Certificate.
ACCURACY
± 0.5% of full scale ± 1 least significant digit.

WEIGHT & DIMENSIONS
2 lb. [1 kg] Shipping weight - 3 lb. [14 kg]

3.8" [97 mm] H x 2.5" [64 mm ] W x 1.5" [38 mm] D